So you know my big annual trip to Mexico where I plan non-stop fun for 100 clients at some majestic resort? Yeah, I leave Monday. And my thoughts right now drift from final touches to I'm about to be spending all day in a bikini with my all-male sales team. Today I'm saying goodbye to carbs and will be hitting the gym with this much enthusiasm.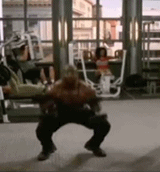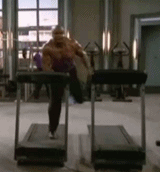 So people can see me and be all
But in reality by Sunday night I will probably be like
So here are some chicks to inspire me through the weekend of green juice and salad city. How agelessly gorgeous is Halle Berry? Also, I could not be more confused about what Cloud Atlas is about.
Katy Holmes
shows off some impressive hammys while running errands in New York.
Junk food lover and avid jump-roper Katy Perry wears a tiny suit while performing in Las Vegas.
My fav Rosie Huntington-Whiteley is the definitely of hot off-duty model. Want that hair.
Girl, you know you have a fabulous bod, but this hemline is too much for your age. Or any. But thanks for the curvy inspiration!
The adorable Victoria Justice on the promo trail in NY for her Halloween film Fun Sized.
At a Versace VIP event in SoHo, Alexa Chung wore burgundy Versus and bare legs.
Jennifer Hudson was also at the Versace NY dinner. She also went for a turtleneck and leather mini.