Anne Hathaway attended services with her fiance at a Jewish Community Center in Los Angeles yesterday for the Jewish New Year. She is not Jewish, but a lapsed Catholic. I would love for any of my Jewish friends to let me know in the comments if all the dark clothes I saw out yesterday are part of the ritual or if it was just a coincidence? Dina?
Amanda Bynes has been in plenty of hot water with her driving lately. She was also reportedly talking to herself at the Equinox on Sunset last week. I believe she is wearing a wig while shopping in the Valley. Lindsay Lohan has spoken up on how unfair it is that Amanda is not in jail. She is probably right, but I would have expected her to distance herself or offer some compassion for a fellow PYT having a public break down.
Eva Longoria ditched the gowns and returned to business in Hollywood following the ALMA awards. Something about celebrities in khakis is my version of a parallel universe. True story, I have never owned a pair of khakis in my life. I had to get some khaki shorts for Rush and I hated it with a passion. They have just never done anything for me and I think this started with an unfortunate experience at Target where I was sure an employee was not wearing pants, but was in fact wearing extremely, extremely tight nude stretch pants.
Katie Holmes and Suri Cruise match up shoes for an activity in NYC. Her runway show got pretty great reviews. I expect to see her day to day gear bumped up a notch now. I mean, I don't expect Posh levels, but something more aspirational would be rad.
Speaking of somebody to aspire to, Kate Middleton is lovely in a pale yellow eyelet Rebecca English dress.
Kim Kardashian
heads out of Miami, where she just began filming another season of
Kourtney and Kim Take Miami,
airing in January. She is Australia bound for some promotional appearances in one fierce Balmain jacket. I mean, this is some get-up for an extremely long flight, right? Also, is this head cone becoming a thing?
Kelly Osbourne,
then
NicRic,
now
Kim
? Also, I really do enjoy watching their shows, but this is my least favorite in the franchise because there is no Khloe and Kourtney isn't much fun anymore. Hearing this was coming back is akin to how I felt about hearing about
Hangover 3...
just leave it be please.
Except for this part of Hangover 2, which was rad: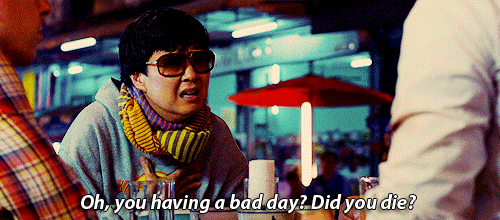 I thought Nina Dobrev was wearing a floral dress to a screening of Perks of Being a Wallflower and cover signing for her Seventeen magazine feature...
...but it is The Reformation Sleet jumpsuit with an exposed back. Only she.
Miley Cyrus is still enjoying lots of downtime in Los Angeles. No new makeover this week, unfortunately.
Mindy Kaling promoted her new show in NYC. I just started listening to her book Is Everybody Hanging Out Without Me. Listening to autobiographical comedies read by said comedian are always a win for me. I have definitely not laughed the way I did with Tina Fey's, but I am also always happy to get in my car and hear the next chapter.